About the Show
Price: $22 GA, $37-$42 reserved seating
When: Sunday 7:00
Spotlight: Join Kristin Key -- nationally headlining, queer, musical comedian and viral sensation -- for an unforgettable evening of hilarious comedy, music, inclusion, and connection. Between her popular Dry Bar comedy special, viral "Lesbian National Anthem" song, and standup clips from shows nationwide, Kristin's videos have over 25 million views with more than 300,000 followers. Host of the popular podcast Kristin Knows Blank, Kristin has been featured on NBC's Last Comic Standing and Bring the Funny, and has released multiple popular comedy albums. Learn more at kristinkey.com.
Featuring: TBA
About the Comics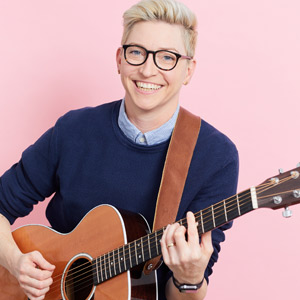 Kristin Key grew up a minister's daughter in a small town in West Texas. Much like Footloose, she was raised in a no-drinking, no-dancing, no instrumental music environment, so she immediately took up drinking, dancing and playing an instrument. Proving that the almighty has a strange sense of humor, Kristin came out of the closet at 15. Needless to say, it did not go well. So, Kristin decided to "take it back", retreat back into the closet, and try a little harder to be straight.
At 19, while in college to become a paramedic, Key signed up for an open mic at the local comedy club. As soon as she got onstage, she felt right at home. Though her observations and wit made her a local favorite, she remained in the closet, fearful of losing her local fan base. Small shows in the Texas panhandle turned into 35 states worth of comedy over the next 5 years. Audiences couldn't help but love Kristin's original comedy songs and rapid-fire style of comedy coming from the "Preacher's Kid", and although female comics struggled to find work as she started out, she was booked not for being a woman, but for simply being funny.
When Last Comic Standing held their auditions in Austin, Texas, she stood in line hoping for a chance to be seen. After 7 hours of waiting, she got her chance and her ticket to Hollywood to compete with the best in the comedy world. At the end of the season, she stood among the final six and watched as her fan base exploded. With validation from millions of comedy fans, Key moved to L.A. and began preparing a new act to take on the road.
While participating in an anti-bullying fundraiser, Kristin finally broke her silence and decided to share her hilarious story of coming out, taking it back, living in the closet, and meeting her wife. After 15 years in comedy, Kristin has found a way to perfectly blend together her thought provoking hilarious true stories and original songs with outrageous off-the-cuff improv moments, ensuring that no two shows are the same.
Kristin is most recognized for her appearances on NBC with her TV debut on Last Comic Standing and her recent performance on Bring the Funny. Her social media videos have over 25 million views and Kristin has over 275,000 followers. She currently hosts the Kristin Knows Blank podcast. Additional credits include: Comics Unleashed, VH-1's 100 Greatest Series, The Bob and Tom show, and SiriusXM Satellite Radio. Kristin has recorded five full-length stand-up comedy albums and one studio music comedy album.