About the Show
Price: $25 GA, $35-$40 reserved
When: Sunday 7:00
Spotlight: Josh Gondelman has been killing it as a writer -- first for "Last Week Tonight," then for the Showtime hit "Desus & Mero." But he's just as sharp as a stand-up, with appearances on all the big talk shows and several comedy albums at the top of the charts. Check out this multi-talented performer as he makes his DC Improv headlining debut.
Featuring: TBA
About the Comics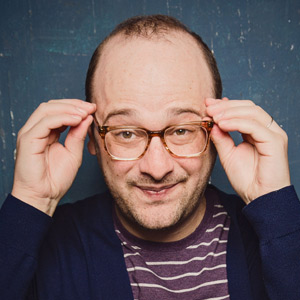 Josh Gondelman is a writer and comedian who incubated in Boston before moving to New York City, where he currently lives and recently worked as the head writer and an executive producer for "Desus & Mero" on Showtime. Gondelman also contributed to the final season of "The Marvelous Mrs. Maisel," which was a thrill for both him and his parents. Prior to that, he spent five years at "Last Week Tonight with John Oliver," first as a web producer and then as a staff writer where he earned four Emmy Awards, two Peabody Awards, and three WGA Awards. His debut standup special "People Pleaser" (2022) was produced by Comedy Dynamics and is available to stream now.
If his face seems familiar, you may recognize it from his appearances on "Conan" (TBS), "Late Night With Seth Meyers" (NBC), and "The Late Late Show with James Corden" (CBS). But you may also know his voice from his regular appearances on the NPR news quiz show "Wait Wait … Don't Tell Me." Gondelman is also the author of the essay collection "Nice Try: Stories of Best Intentions and Mixed Results" published September 2019 by Harper Perennial. And, if you remember this far back, he was the co-creator of the popular Modern Seinfeld Twitter account.
Josh's album "Dancing On a Weeknight" came out in 2019 on Blonde Medicine Records. (His prior album "Physical Whisper" debuted in March of 2016 at #1 on the iTunes comedy charts (as well as #4 on the Billboard comedy chart) and stayed there for … well … longer than he expected, honestly.) Additionally, Gondelman is also the co-author (along with Joe Berkowitz) of the book "You Blew It," published October 2015 by Plume. In the past, Josh has written for Fuse TV's "Billy On The Street." His writing has also appeared in prestigious publications such as McSweeney's Internet Tendency, New York Magazine, and The New Yorker. For a while he had his own game show podcast called "Make My Day" that was a lot of fun. You can still listen to it if you'd like. Why wouldn't you? It's new to you.
That's probably more information than you need, but hey … he did these things and he's proud of himself, okay?