About the Show
Price: $22 GA, $27-$32 reserved
When: Friday 7:30 and 9:45, Saturday 7 and 9:30, Sunday 7:00 (finals)
Spotlight: The 40th edition of Comedy Kumite is XL! The world's greatest comedy competition returns with a supersized weekend event showcasing 24 top comics from the DMV scene. Each show Friday and Saturday has a different lineup of six performers, with the audience choosing one comic from each show to advance to the finals. Sunday night the favorites return for a four-person tournament, with the winner taking home a $1,000 prize and bragging rights as Kumite XL Champion. It's an amazing weekend of competition, and no matter what, the audience ALWAYS wins.
Featuring: TBA
About the Comics
The lineups for each Quarterfinal (Friday and Saturday) are TBA.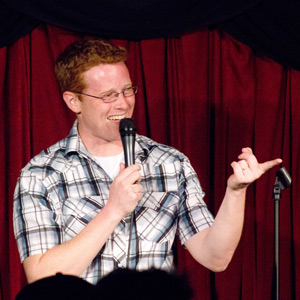 Chris White (official website) has been part of the DC comedy scene for more than a decade, both as a performer and as the guy who runs dcstandup.com. Working with the DC Improv, he produces and hosts The Other Side podcast, Happy Hour Trivia, the "Make Up Party" game night and Comedy Kumite stand-up tournaments. His comedy writing on the U.S. presidents has been featured on McSweeney's, and he has two stand-up albums available on iTunes: "I Take Requests" and "Forbidden Style."
Kumite History
Comedy Kumite was first organized by Chris White around 2005 at venues in D.C. and Northern Virginia. Eight comedians squared off in a bracketed tournament, with the audience deciding the winner of each match with their cheers. The DC Improv worked with Chris to revive the format in its lounge showroom in the summer of 2015, showcasing the next wave of DMV talent. Kumites have returned every few months since then, always selling out in the lounge and sometimes even filling up the club's main showroom. While the venue was closed in 2020 and early 2021, six editions of the tournament were featured in the club's virtual showroom. More than 30 kumite champions have been crowned. You can see them all in the Comedy Kumite Hall of Fame.