About the Show
Price: $25
When: Friday 7:30 and 9:45, Saturday 7 and 9:30
Spotlight: Sam Morrison is coming to DC, following a 13 week run at Soho Playhouse with two encore engagements, Outer Critics Circle Award & Off Broadway Alliance nominations, and a sold out run in London. Grappling with the death of his partner from COVID-19 in 2021, Morrison transformed his grief into humor. Masterfully toeing the line between comedy and tragedy, he takes the audience on a journey of love, loss, diabetes, seagull attacks, and a few extraordinary coincidences.
Featuring: Sam Morrison
About the Comics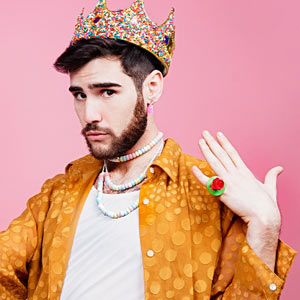 Sam Morrison is a Brooklyn based comedian and writer. He was recently named a New Face at the 2023 Just for Laughs Festival, made his late night television debut on Late Night With Seth Meyers, taped a set for Comedy Central Featuring, and his solo show Sugar Daddy played Off Broadway for 14 weeks, after three encore engagements and a sold out run in London. He is a staple of the Brooklyn comedy scene & regular at the Comedy Cellar among other clubs. He is also a Stand Up NBC Finalist, has performed on The Drew Barrymore Show, appeared on Watch What Happens Live & Tamron Hall, and was a staff writer on Bravo's Blind Date.