About the Show
Price: $35 GA, $45-$50 reserved
When: Thursday 7:30, Friday 7 and 9:30, Saturday 7 and 9:30, Sunday 7
Spotlight: A longtime comedy club standout, Godfrey's profile has gotten even bigger in recent years thanks to his "In Godfrey We Trust" podcast and a stint hosting his own satellite radio show. The Chicago native is a live wire on stage, using an arsenal of voices and wide-eyed expressions while giving his high-energy takes on current events. Check out one of the hottest touring comics going ...
Featuring: TBA
About the Comics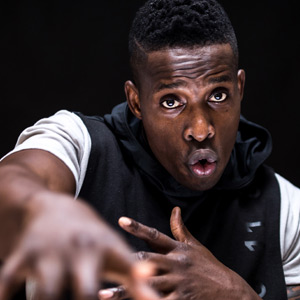 Godfrey (official site) is one of the hottest comedians on the circuit. Growing up in Chicago, he constantly got in trouble for misbehaving and being an all-around class clown. Godfrey's Nigerian parents unknowingly encouraged his bad behavior by showing him classic comedy films from an early age. While performing impressions of his college football teammates, Godfrey realized his irreverent style of comedy might be more than just a hobby.
As soon as Godfrey went pro, he immediately landed several high profile projects. Ben Stiller cast him to play himself in "Zoolander," a performance that has since achieved cult status. Godfrey has also appeared in "Johnson Family Vacation," "The Cook Out" with Queen Latifah, "Phat Girlz" starring Monique, and "Soul Plane" alongside Snoop Dogg. Godfrey is perhaps best known for his stint as the "7UP Guy" in the beloved 7UP national campaign.
Godfrey has also made many television appearances, including stand-up specials on Showtime and Comedy Central. He hosted his own show on SiriusXM satellite radio, and he currently hosts the "In Godfrey We Trust" podcast.