About the Show
Price: $28 GA, $38-$43 reserved
When: Thursday 7:30, Friday 7:30 and 9:45, Saturday 7 and 9:30
Spotlight: Over the airwaves or on the stage, Jay's relentless confidence and amazing command can win over almost anyone. Known as a master of crowd work and dirty jokes, he specializes in honest and hilarious stories from his own rock-and-roll lifestyle. You can hear Jay on "The Bonfire," you can see him on Netflix or his new YouTube special "Dog Belly," or (best of all) you can see him headline the DC Improv once again this fall.
Featuring: TBA
About the Comics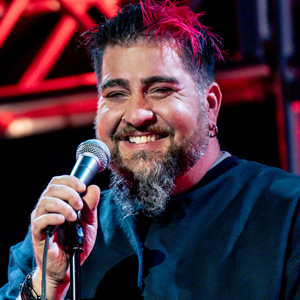 Big Jay Oakerson is one of the most beloved and easily recognizable comedians working today. His laid-back style and dirty delivery are the signature marks of his comedy. Jay's career spans two decades, starting in Philadelphia as a "comic's comic" before rising mainstream fame in New York. Constantly touring the country, Jay has been a part of some of the biggest comedy festivals including Moontower, Bonnaroo, RockStar Energy Drink's Mayhem Fest, Gathering of the Juggalos, Funny or Die's Oddball Festival. He has wowed audiences at the prestigious Just For Laughs Montreal festival an impressive four times, both on The Nasty Show and with his solo show, The American Storyteller. Most recently, he has been playing yearly on the hit Vegas sold out festival SkankFest, which Jay helps produce.
Every week, Jay co-host's "The Bonfire" alongside Bob Kelly on Radio Sirius XM 95 Monday through Thursday 6-8pm EST. He is also the co-host of two wildly popular podcasts "Legion of Skanks" with Luis J. Gomez and Dave Smith and "The SDR (Sex, Drugs & Rock & Roll) Show" with Ralph Sutton both on The Gas Digital Network.
On the screen, Jay has been featured on "This Is Not Happening" with Ari Shaffir, "Comedy Underground" with Dave Attell, FX's Emmy winning "Louie", "Inside Amy Schumer", and "Late Night with Jimmy Fallon" & Conan O'Brien. Longtime fans of Jay's will also remember him as Neil, the sexually ambiguous owner of a NYC rock club, on IFC's "Z-Rock", and from his appearances on Comedy Central's "Premium Blend", "Comedy Central Presents" and "Tough Crowd with Colin Quinn".
Jay's debut hour special "Big Jay Oakerson: Live At Webster Hall" premiered on Comedy Central in 2016 and was filmed at the legendary music venue in New York City to provide the perfect heavy metal vibe for the show. Jay's comedy is raw, compelling and honest to the core, as he takes viewers on a journey of brutal truths. His second special premiered in 2018 as part of "The Degenerates" on Netflix and filmed in Las Vegas. Jay has also recorded 3 comedy albums on Comedy Central Records, "The Crowdwork Sessions: What's Your F@#king Deal?! Volumes 1 & 2" which captures Jay's raunchy, off-the-cuff essence with a full hour of crowdwork; and Jay's first album, "An American Storyteller", a one-hour onslaught of unbridled raunchy rock n' roll hilarity.
This year, Jay released his newest hour, "Dog Belly" on YouTube. The long-awaited special was directed, and executive produced by Ari Shaffir and shot during 2022's SkankFest. In this special, Jay dives deep into his own life, ranging from his own sexual insecurities to being called a Nazi as a Jewish man.