About the Show
Price: $22 Friday and Saturday, $18 Sunday
When: Friday 7 and 9:15, Saturday 6 and 8:15, Sunday 6
Spotlight: Louis Katz has been visiting the club the last few years with one of the all-time greats -- Dave Attell. He's also establishing himself on the next level, now headlining our lounge for a second year in a row. Just the right mix of smart and dirty, Louis has been seen on Comedy Central's "This Is Not Happening," NBC, HBO and lots more. Plus his latest album, "KATZKILLS," was named one of the top 5 albums of the year by Vulture.com.
Featuring: TBA
About the Comics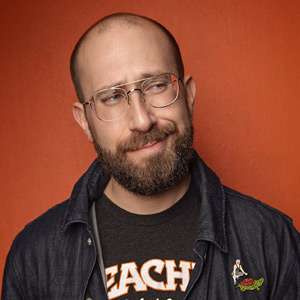 Louis Katz's comedy deftly combines the highbrow and the lowbrow, creating a truly unique style that has been described as "cerebral filth."
Throughout his career, Louis' stand-up has been featured on NBC, HBO, and 5 times on Comedy Central, including his own half-hour special and an appearance on their storytelling show, "This Is Not Happening," which has since been viewed over 2.7 million times on YouTube.
His latest album, "KATZKILLS," was named one of the top 5 comedy albums of the year by vulture.com, who called it "a raucous comedy party." Louis' first one-hour special will be released on Epix in 2022 as part of their "Unprotected Sets" series.
A true comedian's comedian, Louis' act has garnered praise from industry legends such as Dave Attell who called him, "one of the best joke writers working today" and Ali Wong who said Louis was, "one of the funniest and most prolific comedians I know." Marc Maron featured Louis on his WTF podcast saying, "His album and special are hilarious." But perhaps Doug Stanhope put it best when he said, "Katz is funny to the point that Hitler would have given him a sleeper car on the train."