About the Show
Price: $22 general admission, $32-$37 reserved
When: Thursday 7:30, Friday 7:30 and 9:45, Saturday 7 and 9:30
Spotlight: We're tipping off 2024 with five big shows featuring five outstanding comics. Get yourself to the club to enjoy the Starting Five showcase, a great mix of comedy styles that's sure to make you laugh. Everyone resolves to have more good times -- so start your new year with a win! This is a showcase format, with the five comics performing a total of around 90 minutes.
Featuring: Rahmein Mostafavi, Denise Taylor, Wil Sylvince, Cipha Sounds, Chris Coccia
About the Comics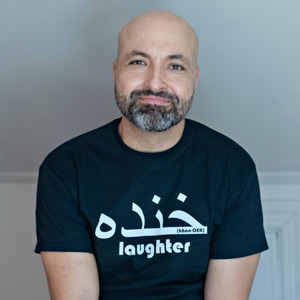 Rahmein Mostafavi (official website) charms crowds with comic timing and charisma developed during a decade of live performance. He entered the stand-up world after working as a longtime cast member of "Shear Madness," the acclaimed Kennedy Center improv/comedy whodunit. His natural joke writing ability, combined with his acting chops, have won him rave reviews in both the Washington area and around the country. He also produced events under the "Cool Cow Comedy" banner, bringing live comedy to venues in Maryland and Virginia.
Rahmein has been featured at the Laugh Your Asheville Off comedy festival, The Devil Cup, Red Clay, The Cleveland Comedy Festival, and the Cape May Comedy Festival. Rahmein has been seen on FOX, heard regularly on Sirius XM, was featured in "The Truth About Money" on PBS, and was honored to be a speaker at the world famous TEDx Talks.
Born in Iran, Rahmein moved to the United States with his family at a very young age. He currently resides in Northern Virginia. Rahmein won Comedy Kumite 4.2 (winter 2016) at the DC Improv, as well as two Kumite Tournaments of Champions (fall 2016 and summer 2021).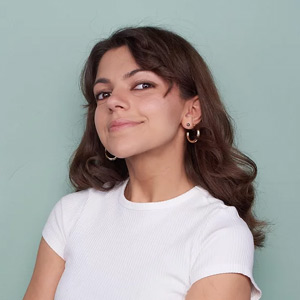 Denise Taylor knew she wanted to be a comedian ever since her fourth grade teacher called her a "ringleader" for distracting the class with jokes. At 26, Denise's sharp material and commanding stage presence has led her to open for several national touring headliners, including Judah Friedlander, Chris Gethard, Kamau Bell, Moshe Kasher, and many more. Denise is currently a contributor for The Onion. She also appears frequently on two of DC's most popular comedy shows: Fale University and The Time Machine Roast. Follow her on Twitter at @denidenitaytay.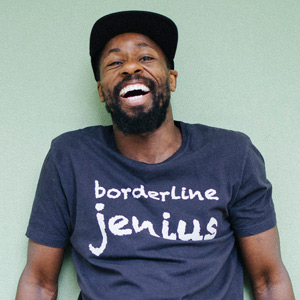 Wil Sylvince (official website) is one of the most explosive comedians performing around the world today. His comedic performances on COMEDY CENTRAL, HBO'S DEF COMEDY JAM, and SHOWTIME all garnered standing ovations by the audiences, a feat rarely seen accomplished by many performers. Born and raised in Brooklyn, Sylvince has honed his act in New York's top comedy clubs – the Comedy Cellar, Comic Strip Live, Caroline's on Broadway, Stand-Up NY and the Gotham Comedy Club.
His unique perspective on political and social issues, with a twist of his West Indian Haitian culture, makes Sylvince a comedian in high demand. He has been hand picked by comedian heavyweights Damon Wayans, D.L. Hughley, the Wayans brothers, Katt Williams and Gabriel Iglesias to tour the country. When not touring with other comedians, Sylvince is a wanted commodity at college campuses everywhere. His versatility to work clean as well as edgy, make him one of the nation's top booked college comedians.
In addition to his on-camera work, Sylvince also prides himself on his exceptional comedy writing skills. His writing has been used and featured on The Fugees' album "The Score," Wyclef's "The Carnival." He was also a contributor to "Chappelle's Show" on Comedy Central and Damon Wayans' "The Underground." His work definitely speaks for itself, leaving audiences in amazement and always wanting more. Wil Sylvince is definitely a rising star worth keeping an eye on.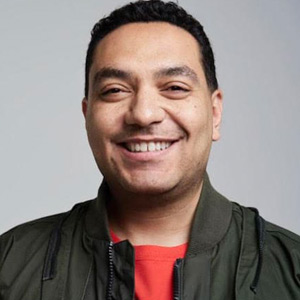 Throughout Cipha Sounds' many career turns, two elements have remained at the fore: comedy and hip-hop, his two biggest passions. On the radio, as a VJ for MTV, and as a Live DJ, he has always maintained a sharp sense of humor on the mic. He combined both fields as the official DJ for Comedy Central's Chapelle's Show, and has continued to work with Dave Chappelle ever since, joining him on tours as a DJ and opening comedian. He is a regular DJ at Saturday Night Live after parties, and appeared in Michael Che's Netflix Special. He is now Che's go-to DJ and opening act on the road. Cipha provides an essential link between music and comedy in New York and beyond. He performs standup comedy at clubs around the city, including the legendary Comedy Cellar, ands hosts "Take it Personal – The Hip Hop Improv Show." Take it Personal has featured many celebrity guests, including Questlove, DJ Premier, The Wu-Tang Clan, Zoe Kravitz, Donald Glover, and 2Chainz.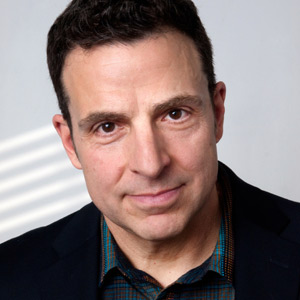 Chris Coccia (official website) started teaching stand-up at the DC Improv in 2006, but he was a regular on the DC Improv stage way before that. Friendly, funny and accessible, he has a real gift for connecting with audiences of all types. His act is a perfect combination of hilarious material and the ability to present it "in the moment." Flowing seamlessly between material and improvised interaction with the crowd, Chris is able to open the audience up as he pulls them into a shared recognition of our own human-ness.
Chris keeps a full schedule working everything from the country's top comedy clubs to corporate events to colleges. In addition, he won the 2008 Purina Pet Comedy Challenge, a national event with a $10,000.00 prize. He was also invited to be part of the Great American Comedy Festival in Johnny Carson's Nebraska hometown, put together by the talent coordinator of "The Late Show with David Letterman," Eddie Brill. He has appeared on Comedy Central, The Game Show Network, and XM Radio. Chris is also a frequent and favorite guest on several Philadelphia based radio shows.