About the Show
Price: $20-$22 GA, $25-$32 reserved
When: Thursday 7:30, Friday 7:30 and 9:45, Saturday 7 and 9:30
Spotlight: We're tipping off 2023 with five big shows featuring five outstanding DMV comics. Get yourself to the club to enjoy the Starting Five showcase, a great mix of comedy styles that's sure to make you laugh. Everyone resolves to have more fun -- so start your new year with a win! This is a showcase format, with the five comics performing a total of around 90 minutes.
Featuring: Rahmein Mostafavi, Ty Davis, Eddie Morrison, Christine O'Dea, Lafayette Wright
About the Comics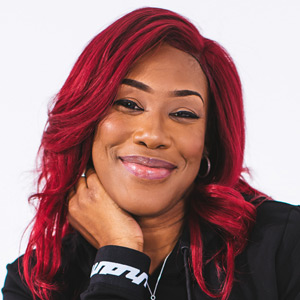 Ty Davis is based in Baltimore. Originally born in Ft. Bragg, North Carolina, she traveled often and had to adapt and make friends quickly. Her bubbly personality made her the perfect social butterfly that enjoyed making people laugh and smile. In 2001, after her mother retired, they moved to Baltimore where she started her comedic career in 2014. She has worked with some of the industry's top comedians at The Arena Players, one of the oldest historically African-American community theaters. She is the host of The Morning After Show on DTLR Radio Monday through Friday, and you can also see her bringing the funny on season three of "Hart of the City" on Comedy Central.
Eddie Morrison is a D.C. native who has performed standup comedy all over the metro area. His appearances include the DC Improv, State Theatre, and Magooby's Jokehouse, where he was named runner-up at the 2015 New Comedian of the Year Competition. Eddie won Comedy Kumite 15.2 (spring 2018) at the DC Improv, as well as Kumite 30 (spring 2021).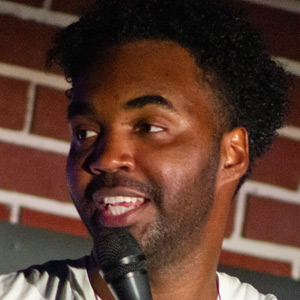 Lafayette Wright's obsessions with art and expression fuel who he is both onstage and off. He has spent close to a decade honing his skills on the DC comedy scene, and he now has a razor sharp act and undeniable onstage likability. He was featured in an episode of "Hart of the City" on Comedy Central. Lafayette won Comedy Kumite 11.1 (summer 2017) at the DC Improv, as well as Kumite 13.1 and 13.2 (winter 2018), Kumite 17.1 and 17.2 (fall 2018), and a Tournament of Champions (winter 2019).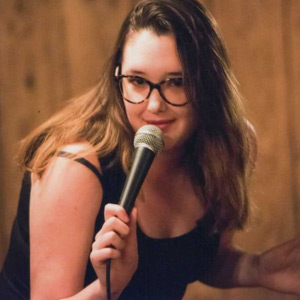 Christine O'Dea is a rising character in the DC comedy scene. Mixing an irreverent style with outlandish viewpoints, her comedy is an honest look into her life as a somewhat peculiar woman trying to traverse the obstacles of normal life. She is the co-host of the Quick Time Gals Podcast.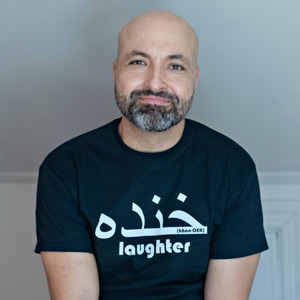 Rahmein Mostafavi (official website) charms crowds with comic timing and charisma developed during a decade of live performance. He entered the stand-up world after working as a longtime cast member of "Shear Madness," the acclaimed Kennedy Center improv/comedy whodunit. His natural joke writing ability, combined with his acting chops, have won him rave reviews in both the Washington area and around the country. He also produced events under the "Cool Cow Comedy" banner, bringing live comedy to venues in Maryland and Virginia.
Rahmein has been featured at the Laugh Your Asheville Off comedy festival, The Devil Cup, Red Clay, The Cleveland Comedy Festival, and the Cape May Comedy Festival. Rahmein has been seen on FOX, heard regularly on Sirius XM, was featured in "The Truth About Money" on PBS, and was honored to be a speaker at the world famous TEDx Talks.
Born in Iran, Rahmein moved to the United States with his family at a very young age. He currently resides in Northern Virginia. Rahmein won Comedy Kumite 4.2 (winter 2016) at the DC Improv, as well as two Kumite Tournaments of Champions (fall 2016 and summer 2021).