About the Show
Price: $35 general admission, $40-$45 reserved
When: Friday 7:30 / 9:45, Saturday 7 / 9:30
Spotlight: Millions of people have gotten to know Roy for his work on "The Daily Show," and millions more remember his work on the sitcom "Sullivan and Son," "Space Force" and more. But long before those gigs, Roy was known as a beast on the stand-up circuit – someone who was cracking up audiences coast to coast. He returns to the DC Improv this February for another weekend headlining on our main stage.
Featuring: Ty Davis
About the Comics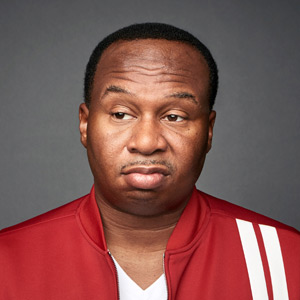 Roy Wood Jr.'s comedy has entertained millions across stage, television and radio. In addition to stand-up comedy, producing and acting, Roy is currently a correspondent on Comedy Central's Emmy and NAACP Award winning "The Daily Show with Trevor Noah." During his tenure, he has used "The Daily Show's" brand of satire to shed light on serious issues including gun violence, police reform, LGBTQ+ discrimination, ICE deportations and PTSD in the Black community.
Roy expanded his already large role on Comedy Central with a comprehensive first-look deal and is developing his comedy pilot "Jefferson County: Probation." Comedy Central will also produce and air his third one-hour stand-up special this year. Wood's second special, "No One Loves You," premiered as part of Comedy Central's Stand-Up Month in January 2019; the special remains the network's highest rated original stand-up premiere since his February 2017 one-hour, Father Figure. Most recently, Roy launched his podcast, "Roy's Job Fair," produced in partnership with Comedy Central and iHeartMedia. Each week he sits down with real people from all lines of work to discuss their most memorable jobs, employment vacancies they're looking to fill, scams they've run at the office, and of course, the cringe-worthy office romances.
Wood's additional credits include "Better Call Saul," "The Last O.G.," "Space Force," "Last Comic Standing," "This Is Not Happening," and "Sullivan & Son" as well as his Comedy Central web series "The Night Pigeon" and "Stand-Up Playback." He has appeared on "The Tonight Show Starring Jimmy Fallon," "Late Night with Seth Meyers," 'The Late Show with Stephen Colbert," "Conan," the "Late Show with David Letterman" and HBO's historic "Def Comedy Jam." He has also performed for the troops on numerous USO tours in the Middle East and the Pacific Islands.
Roy is a graduate of the Florida A&M University with a B.S. in Broadcast Journalism. True to his roots, he is an outspoken advocate for reshaping the image of Alabama and the American South as a whole. In 2018, he penned a New York Times piece on the subject. He is actively working with the Birmingham City Council and the Film Commission to bring more entertainment jobs to the state. During the Covid pandemic, Roy has also remained committed to fundraising for comedy clubs by supporting initiatives like TipYourWaitstaff.com and Laugh Aid.
Keep up with Roy Wood Jr. on Twitter and Instagram @roywoodjr.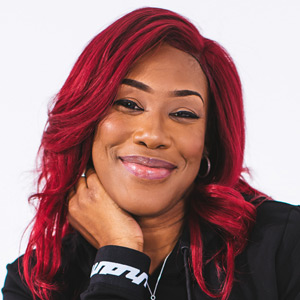 Ty Davis is based in Baltimore. Originally born in Ft. Bragg, North Carolina, she traveled often and had to adapt and make friends quickly. Her bubbly personality made her the perfect social butterfly that enjoyed making people laugh and smile. In 2001, after her mother retired, they moved to Baltimore where she started her comedic career in 2014. She has worked with some of the industry's top comedians at The Arena Players, one of the oldest historically African-American community theaters. She is the host of The Morning After Show on DTLR Radio Monday through Friday, and you can also see her bringing the funny on season three of "Hart of the City" on Comedy Central.