About the Show
Price: $35 general admission
When: Friday 7:30 and 9:45, Saturday 7 and 9:30
Spotlight: Margaret Cho could be called the Queen of all Media, having conquered the worlds of film, television, books, music and theatre. She has five Grammy Award nominations (two for music albums, "Cho Dependent" and "American Myth") and one Emmy nod for her groundbreaking work on "30 Rock." In 2017, Rolling Stone magazine named her one of the 50 Best Stand-Up Comics, calling her "the sort of funny, sex-positive feminist and LGBT activist younger comics continue to look up to." Equally as important as her creative side is the causes she is passionate about, including her charitable work with gay rights and anti-bullying campaigns. In every segment of her life, Margaret is honest, forthright, passionate, uproarious and always entertaining.
Featuring: TBA
About the Comics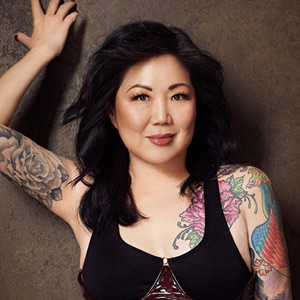 Beginning with her early days as an up and coming stand-up comedian in San Francisco, Margaret Cho has always been the Agent Provocateur of entertainment. Never one to shy away from any topic, there is literally nothing off limits when it comes sharing her views on family, gay rights, politics, sexuality, bullying and oh-so-much more. Margaret's socially aware, no-holds-barred type of comedy has made her both a thought leader and a tolerant teacher for those with open minds and open hearts. An accomplished performer in all formats, Margaret has conquered the worlds of film, television, books, music and theatre. Having been nominated for five Grammy Awards and one Emmy, her comedy tours are a constant sell-out both here and abroad. She's had two shows debut Off-Broadway (I'm The One That I Want and The Sensuous Woman) and her last stand-up, psyCHO, was filmed at the historic Gramercy Theatre in New York City.
The film and DVD releases of Margaret's comedy shows have broken records as well, with I'm The One That I Want still holding the title for 'Most Money Grossed Per Print' for an independent film. Her other releases, which Cho fans collect and swap with zeal, include Notorious C.H.O (2001), Assassin (2005), (2003), Beautiful (2009) Cho Dependent (2011) and psyCHO (2015). Margaret has always been responsible for the distribution and sales of all her content via her own Clownery label, a move that was extremely forward thinking when she made it in 1999.
Margaret has also made an indelible mark in television, starting in 1994 with the trailblazing network comedy All American Girl. This was followed by the first "reality sitcom," The Cho Show on VH1, six seasons on the Lifetime series Drop Dead Diva, one season of TLC's late night show All About SEX, a seat at the table as a special guest host of E!'s Fashion Police and an Emmy nod for Outstanding Guest Actress for her hilarious turn as Kim Jong II on 30 Rock. She recently developed Highland, a dramedy for TNT about a woman fresh out of rehab who has to oversee her very needy, very dysfunctional, Korean-American family.
Her music career has been equally as successful. The acclaim her Grammy nominated Cho Dependent record received was earned, as Margaret took both vocal and instrument lessons to make sure she could keep up with guest performers such as Tegan & Sara, Grant Lee Phillips and Fiona Apple. Her follow up release, 2016's American Myth, would go on to earn her another Grammy nomination for Best Comedy Album. With songs such as "Fat Pussy," "I Want to Kill my Rapist," and "Anna Nicole," American Myth, made with collaborator Garrison Starr, showcased Margaret's first efforts as a composer. Margaret has described the album as a mixture of "Americana, Beatlemania & 90s riot grrrl."
With so much success in her creative life, Margaret has never turned away from causes that are important to her. She is incredibly active in anti-racism, anti-bullying and gay rights campaigns, and has been recognized for her unwavering dedication over the years with many accolades and awards including the Victory Fund's Leadership Award, the first-ever Best Comedy Performance Award at the 2007 Asian Excellence Awards, the First Amendment Award from the ACLU of Southern California, and the Intrepid Award from the National Organization for Women (NOW).
Earlier this year Margaret was named one of the 50 Best Stand-Up Comics by Rolling Stone magazine, which called her "the sort of funny, sex-positive feminist and LGBT activist younger comics continue to look up to." No surprise then that Margaret continues to innovate. Her upcoming tour, Fresh off the Bloat, set to start this fall and continue in to 2018, is all about the politics of disgust and what is disgusting about politics. In other words, classic Margaret Cho. As she says, "It's meta. It's magical. It's me."