About the Show
Price: $25 general admission
When: Wednesday 7:30
Spotlight: Love and marriage, love and marriage / Go together like a horse and carriage / These two plan to be wed / It's too bad somebody will drop dead. We're having a wedding and you're all invited. Die Laughing Productions presents Love and Marriage and Murder. It's the bride and groom's big day. Bells will ring, the sun will shine, they'll love until the end of time. End indeed! This is a murder mystery; a wedding whodunit! Can you solve it and live happily ever after? Love and Marriage and Murder stars 98 Rock's Justin Schlegel, Joe and Katie Robinson (our real life newlyweds) and all your favorite Die Laughing Productions performers. But the real stars of the show are all you wedding crashers in the audience. We have audience roles available for willing volunteers. The rest of you can sit back, laugh and enjoy the wedding day ruined by an untimely death and maybe help answer whodunit. Eat. Drink. Laugh. Solve a Murder. See you February 9.
Featuring: Die Laughing Productions
About the Comics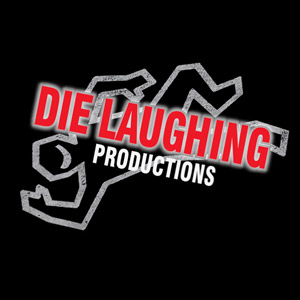 Die Laughing Productions is the world's greatest Murder Mystery Company. All shows are created by and performed by professional stand up comedians. Each show is a third scripted, a third improv, a third audience participation and 100% funny.
The brains behind Die Laughing Productions are stand up comedians and radio personalities Rob Maher and Joe Robinson. Rob and Joe are veterans of the comedy industry having each performed professionally for over 15 years. Rob was a finalist in Comedy Central's Up Next competition and has performed for our troops in 14 countries. Joe is the former host of 98 Rock's Irresponsible Radio. Both comedians are regular contributors to the 98 Rock morning show and are featured performers at Improv and Funny Bone comedy clubs nationwide. You can hear Rob and Joe every Sunday this football season co hosting the Baltimore Ravens postgame show and hear them every week on their top rated comedy podcast, the Rob and Joe Show.