Gina is also headlining our New Year's Eve shows! Click here if you want to find out about those shows.
About the Show
Price: $20 - $25 GA, $25 - $35 reserved
When: Thursday 7:30, Friday 7:30 and 9:45
Spotlight: Gina picked up a lot of new fans with her appearances on "America's Got Talent," but she's no stranger to the spotlight -- her Amazon Prime special "The Floor is Lava" was a big hit in 2020, she has made the rounds on late night TV and she toured the country with Gabriel Iglesias. The Bronx native is bringing her good-natured attitude to the nation's capital -- these shows are her DC Improv debut!
Featuring: TBA
Comedian Interviews
On November 18, 2021, Gina talked to us about the Bronx, motherhood, "America's Got Talent," and lessons she learned on the way to the top. Get to know her, then get your tickets!
About the Comics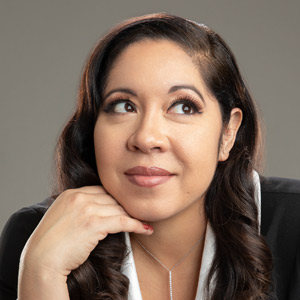 Gina Brillon (official website) was born and raised in the Bronx, New York. The Puerto Rican actress, comedian, writer (and new mom!) has been a standup comic since she was 17 years old. Her 1-hour special "Gina Brillon: The Floor is Lava" won a Gracie Award and is available on Amazon Prime Video, along with her first special, "Pacifically Speaking."" Her 1/2 hour special "Easily Offended" was one of the top shows from the Entre Nos franchise on HBO Latino, and streams on all HBO Digital Platforms. She's made appearances on HBO Max's "HA Festival: The Art of Comedy," Comedy Central's "Live at Gotham," E!'s "Chelsea Lately," "The View," "Late Night with Seth Meyers" and 'Jimmy Kimmel Live." You have seen her on "Kevin Can Wait" on CBS and "The Conners" on ABC. In 2012, she became the first (and only) Latina winner of NBC's Stand up for Diversity Showcase. The following year, she was a "New Face" at the Montreal Just For Laughs Festival. Gina is a singer, published writer, and poet. Her pieces have appeared in the New York Post and Daily News, among others. In 2019, she was featured on Gabriel "Fluffy" Iglesias' "Beyond the Fluffy Tour" - hitting 46 cities around the US. Currently, Gina and co-host Katherine G. Mendoza dole out advice on their podcast "Mess In Progress: The Homegirls Guide to Self-Help."