About the Show
Price: $35 general admission, $40-$45 reserved
When: Thursday 7:30, Friday 7:30 and 9:45, Saturday 7 and 9:30, Sunday 7
Spotlight: It's our annual visit from one of stand-up comedy's best. An all-time-great joke writer, Dave is at home in comedy clubs. He built a loyal following by barnstorming the country with his brand of "very adult" humor, and his audiences got even bigger after his cult-favorite travel show, "Insomniac." Dave continues to be a presence on TV, while constantly writing new material and taking it on the road.
Featuring: TBA
About the Comics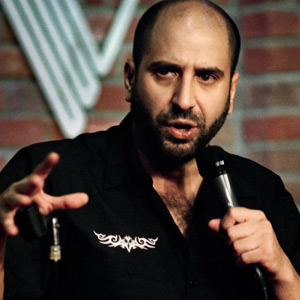 Dave Attell is a stand-up comedian, actor and writer, best known as the host of Comedy Central's INSOMNIAC WITH DAVE ATTELL, which gave him a cult following. He can next be seen in the Hulu series LIFE & BETH alongside Amy Schumer, Michael Rapaport, and Michael Cera. He can also be seen on BUMPING MICS with Jeff Ross, currently streaming on Netflix and HBO's CRASHING with Pete Holmes. His stand up series, DAVE ATTELL'S COMEDY UNDERGROUND and his one hour special, ROAD WORK were featured on Comedy Central and ROAD WORK is now streaming on Netflix.
His film credits include Chris Rock's cult film, POOTIE TANG, FUNNY PEOPLE, SCARY MOVIE 4, and LOS ENCHILADAS and in the Amy Schumer films TRAINWRECK and I FEEL PRETTY. His television credits include, THE SIMPSONS, DIFFICULT PEOPLE, BOB'S BURGERS, ARRESTED DEVELOPMENT, THE JIM GAFFIGAN SHOW, THE JIM NORTON SHOW, INSIDE AMY SCHUMER, LOUIE, ED, EVERYBODY LOVES RAYMOND, and TOUGH CROWD WITH COLIN QUINN. He was named one of the "25 Funniest People in America" by Entertainment Weekly Magazine. When not on the road, Attell makes regular appearances at the Comedy Cellar in New York City.