About the Show
Price: $40 general admission, $50-$55 reserved
When: Thursday 7:30, Friday 7:30 and 9:45, Saturday 7 and 9:30, Sunday 7
Spotlight: It's our annual visit from one of stand-up comedy's best. An all-time-great joke writer, Dave is at home in comedy clubs. He built a loyal following by barnstorming the country with his brand of "very adult" humor, and his audiences got even bigger after his cult-favorite travel show, "Insomniac." Dave continues to be a presence on TV, while constantly writing new material and taking it on the road.
Featuring: TBA
About the Comics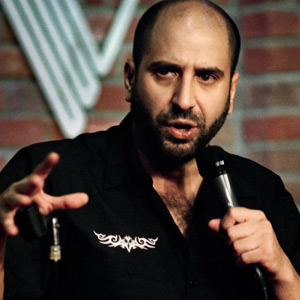 Dave Attell is a stand-up comedian, actor and writer, best known as the host of Comedy Central's INSOMNIAC WITH DAVE ATTELL, which gave him a cult following. He can next be seen in the Hulu series LIFE & BETH alongside Amy Schumer, Michael Rapaport, and Michael Cera. He can also be seen on BUMPING MICS with Jeff Ross, currently streaming on Netflix and HBO's CRASHING with Pete Holmes. His stand up series, DAVE ATTELL'S COMEDY UNDERGROUND and his one hour special, ROAD WORK were featured on Comedy Central and ROAD WORK is now streaming on Netflix.
His film credits include Chris Rock's cult film, POOTIE TANG, FUNNY PEOPLE, SCARY MOVIE 4, and LOS ENCHILADAS and in the Amy Schumer films TRAINWRECK and I FEEL PRETTY. His television credits include, THE SIMPSONS, DIFFICULT PEOPLE, BOB'S BURGERS, ARRESTED DEVELOPMENT, THE JIM GAFFIGAN SHOW, THE JIM NORTON SHOW, INSIDE AMY SCHUMER, LOUIE, ED, EVERYBODY LOVES RAYMOND, and TOUGH CROWD WITH COLIN QUINN. He was named one of the "25 Funniest People in America" by Entertainment Weekly Magazine. When not on the road, Attell makes regular appearances at the Comedy Cellar in New York City.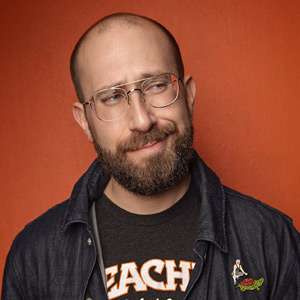 Louis Katz's comedy deftly combines the highbrow and the lowbrow, creating a truly unique style that has been described as "cerebral filth."
Throughout his career, Louis' stand-up has been featured on NBC, HBO, and 5 times on Comedy Central, including his own half-hour special and an appearance on their storytelling show, "This Is Not Happening," which has since been viewed over 2.7 million times on YouTube.
His latest album, "KATZKILLS," was named one of the top 5 comedy albums of the year by vulture.com, who called it "a raucous comedy party." Louis' first one-hour special will be released on Epix in 2022 as part of their "Unprotected Sets" series.
A true comedian's comedian, Louis' act has garnered praise from industry legends such as Dave Attell who called him, "one of the best joke writers working today" and Ali Wong who said Louis was, "one of the funniest and most prolific comedians I know." Marc Maron featured Louis on his WTF podcast saying, "His album and special are hilarious." But perhaps Doug Stanhope put it best when he said, "Katz is funny to the point that Hitler would have given him a sleeper car on the train."
Winston Hodges (official website) is from DC by way of Richmond, Virginia. He has worked comedy clubs up and down the east coast and is known for his southern charm and edgy wit. His debut album will be released in October 2021 by Helium Comedy Records, and his award winning comedy special "Grieving Productively" is available for free on YouTube. He is the host of the podcasts "Host Battle" and "Dead Dad Comedy Pod." He has performed in the Asheville Comedy Festival and New York Underground Comedy Fest. Come listen to Winston cover all the things we think about but are scared to say. Winston won the "Cottage Kumite" (Kumite 36, fall 2022) at President Lincoln's Cottage.