About the Show
Price: $20-$25 GA, $25-$35 reserved
When: Thursday 7:30, Friday 7:30 / 9:45, Saturday 7 / 9:30
Spotlight: Christian Finnegan is a pioneer of the "talking head" show, a sitcom actor and a Twitter all-star. He hosted "Black & White" on A&E, and he was a writer for "The Jim Gaffigan Show." And most important (as far as we're concerned), he's one of our favorite stand-ups, delivering shows as sharp and funny as anyone on our schedule. He even recorded one of his albums here. We're thrilled to have him back for 2022!
Featuring: TBA
Comic Interviews
In May 2022, Christian called in to say hello and share some stories about his love of music -- because in addition to headlining in October, he'll be at the Goddamn Comedy Jam on June 27.
About the Comics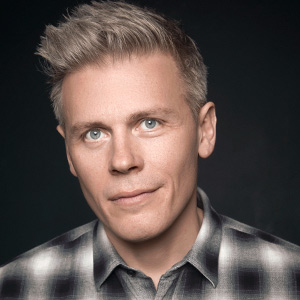 Christian Finnegan (official website) is perhaps best known as one of the original panelists on VH1's "Best Week Ever" and as Chad, the only white roommate in "Chappelle's Show's" infamous "Mad Real World" sketch. He played Martin on the popular syndicated sitcom "Are We There Yet?" and politics junkies will recognize Christian from his many appearances on "Countdown with Keith Olbermann".
Most recently, Christian was the creator and co-host of A&E's "Black & White", which examined current events and social trends through the lens of Race. He can also be heard filling in as a regular guest host on "Standup with Pete Dominick" on SiriusXM Insight.
Over the years, Christian has been a fixture on Comedy Central, having starred in his own one hour stand up special "Au Contraire", as well as "Comedy Central Presents", "Tough Crowd with Colin Quinn" and countless network interstitials. He's also appeared on "Conan", "The Late Late Show with James Corden", "Good Morning America" and "The Today Show".
Christian's four comedy albums/specials ("Two for Flinching","Au Contraire!", "The Fun Part" and "60% Joking") are available on iTunes and Amazon and his standup is in regular rotation on all major streaming services. His fifth album (and third special) "Christian Finnegan: Show Your Work" will be released Spring 2021.
When not on tour, Christian Finnegan can usually be found in Queens helping his wife, author Kambri Crews, with her venue QED Astoria or walking their faithful pooches, Griswold and Chief Billy Bowlegs.