About the Show
Price: $25
When: Friday 7:30 and 9:45, Saturday 7 and 9:30
Spotlight: Following a 13 week run at Soho Playhouse with two encore engagements, Outer Critics Circle Award & Off Broadway Alliance nominations, and sold out run in London, the critically acclaimed 'Sugar Daddy' is heading to DC! Grappling with the death of his partner from COVID-19 in 2021, Morrison transforms his grief into humor. Masterfully toeing the line between comedy and tragedy, he takes the audience on a journey of love, loss, diabetes, seagull attacks, and a few extraordinary coincidences.
Featuring: Sam Morrison
About the Comics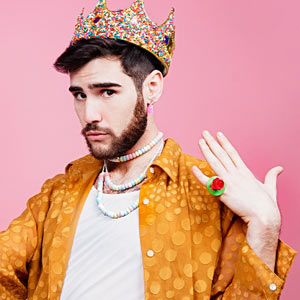 Sam Morrison is an NYC based comedian. His acclaimed solo show SUGAR DADDY premiered Off Broadway earlier this year following a successful run at Edinburgh's Fringe Festival and recently concluded a 13-week run at Soho Playhouse after two encore engagements. As a stand up, Sam has recently performed on The Drew Barrymore Show, as well as some of the prestigious showcases in the country, such as The Stand-Up NBC Finals, The Tonight Show Showcase, and RuPaul's DragCon. He was also named Best of New Talent at the New York Comedy Festival. Most recently, Sam made his late night debut on LATE NIGHT WITH SETH MEYERS.