About the Show
Price: $10
When: Sunday 7:00
Spotlight: The DC Improv Comedy School is proud to present a stand-up class graduation showcase. Students who have completed Rahmein Mostafavi's "Level 2 Stand-Up" course will be taking the famous DC Improv stage to show what they learned. Check out this showcase and enjoy what's sure to be a memorable time for everyone involved.
Featuring: Rahmein Mostafavi
Showcase Lineup
The lineup for the February 18 show: TBA 
About the Host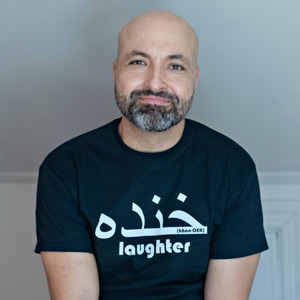 Rahmein Mostafavi (official website) charms crowds with comic timing and charisma developed during a decade of live performance. He entered the stand-up world after working as a longtime cast member of "Shear Madness," the acclaimed Kennedy Center improv/comedy whodunit. His natural joke writing ability, combined with his acting chops, have won him rave reviews in both the Washington area and around the country. He also produced events under the "Cool Cow Comedy" banner, bringing live comedy to venues in Maryland and Virginia.
Rahmein has been featured at the Laugh Your Asheville Off comedy festival, The Devil Cup, Red Clay, The Cleveland Comedy Festival, and the Cape May Comedy Festival. Rahmein has been seen on FOX, heard regularly on Sirius XM, was featured in "The Truth About Money" on PBS, and was honored to be a speaker at the world famous TEDx Talks.
Born in Iran, Rahmein moved to the United States with his family at a very young age. He currently resides in Northern Virginia. Rahmein won Comedy Kumite 4.2 (winter 2016) at the DC Improv, as well as two Kumite Tournaments of Champions (fall 2016 and summer 2021).