About the Show
Price: $10
When: Thursday 7:30
Spotlight: The DC Improv Comedy School is proud to present a stand-up class graduation showcase. Students who have completed Rahmein Mostafavi's "Level 2 Stand-Up" course will be taking the famous DC Improv stage to show what they learned. Check out this showcase and enjoy what's sure to be a memorable time for everyone involved.
Featuring: LaEbony Livingsto Smith, Stacey Axler, Joey Cn, Kelly Mullaney, Vinny Lombardi, MK, Robert Schneider, Laurenoon, Alev Sezer-Jacobs
Showcase Lineup
The lineup for the February 3 show: LaEbony Livingston, Kelly Mullaney, Vinny Lombardi, MK, Robert Schneider, Lauren Smith, Stacey Axler, Joey Coon, Alev Sezer-Jacobs
About the Host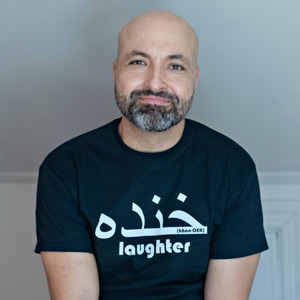 Rahmein Mostafavi (official website) charms crowds with comic timing and charisma developed during a decade of live performance. He addresses social and political topics with a combination of satirical and observational comedy, leaving audiences with a greater sense of purpose, sex appeal and the occasional leg cramp.
Rahmein entered the stand-up world after working as a longtime cast member of "Shear Madness," the acclaimed Kennedy Center improv/comedy whodunit. His natural joke writing ability, combined with his acting chops, have won him rave reviews in both the Washington area and around the country. He also produces events under the "Cool Cow Comedy" banner, bringing live comedy to venues in Maryland and Virginia.
Rahmein has shared the stage with some of the best comics in the nation, including Dave Attell, Jake Johannsen, Artie Lange, Bert Kreischer, Rich Vos, Jon Lovitz, Tim Meadows, Joe Matarese, Bob Marley, The Sklar Brothers, Jen Kirkman, Red Grant, Godfrey, Joe Torry, Kyle Kinane, Finesse Mitchell, and Maz Jobrani. He has been featured at the Laugh Your Asheville Off comedy festival, The Devil Cup, Red Clay, The Cleveland Comedy Festival, and the Cape May Comedy Festival. Rahmein has been seen on FOX, heard regularly on Sirius XM, was featured in "The Truth About Money" on PBS, and was honored to be a speaker at the world famous TEDx Talks.
Born in Iran, Rahmein moved to the United States with his family at a very young age. He currently resides in Northern Virginia.