At the request of the production, patrons for these shows must present proof of full vaccination against COVID-19 or a negative COVID test result (no more than 72 hours old) to be admitted to the venue. "Proof of full vaccination" can be either a completed vaccination card with the final dose given at least two weeks earlier, or a readable photo of your completed card, saved to your phone.
About the Show
Price: $35 early show (includes pass for 1 free admission in 2022), $75 late show (includes pass for 1 free admission in 2022, champagne toast and more)
When: Friday 8:00, Friday 10:30
Spotlight: Laugh your way into 2022 with top comedians from the DMV! Our lounge showroom is an intimate space that gets you up close with the stars of tomorrow. Get a great sampling of local talent and ring in the new year in style. Plus, everyone gets a pass for one free admission in 2022. (Guests for the 10:30 show also get a champagne toast at midnight, a fruit / cheese / cracker plate and party favors.)
Featuring: Tim Miller, Kandace Saunders, Ross Benoit, Sean Savoy, Umar Khan
About the Comics
Tim D. Miller (official website) is a master at engaging audiences and crafting a stand-up set that is a guaranteed good time for all. Tim's material is based on his life experience from Waco to the Army to the White House, trying to raise a daughter, and his unique ability to find the funny in everyday life. Tim has appeared on TRU TV and in 2019 he performed at Comedy Central's Clusterfest.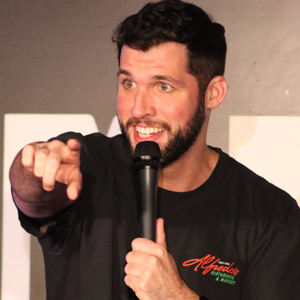 Ross Benoit is a Massachusetts native who moved to Northern Virginia at age 6. Eighteen years later, he started doing stand-up comedy. You can see him hosting shows and performing at venues all around the DMV.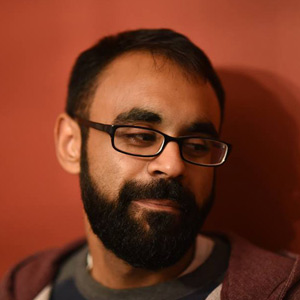 Umar Khan is a Baltimore comedian who has been performing regularly for the past 5 years. He's become a regular at clubs, colleges, independent shows, and local theaters in the Baltimore and DC areas. He has performed at the Baltimore Comedy Factory, Magooby's Joke House, Creative Alliance Theater in Baltimore, and the DC Improv. Umar has had the opportunity open up for great comedians like Todd Barry and Hari Kondabolu.
Kandace Saunders made her comedic debut in 2006 during a comedy competition at the DC Improv. Although, she didn't win, she didn't get booed, and people laughed. So for Kandace, that was enough to pursue a career in standup comedy. Kandace's sarcasm, and quick wit, coupled with her ability to turn life into "extremely laughable situations", has allowed her to become one of today's fastest rising comedians. Kandace has also served in the Army National Guard.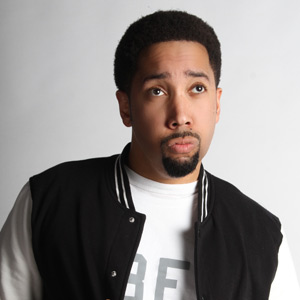 Sean Savoy is a global force for comedy. Hailing from Columbia, MD, Savoy has toured the planet from Sweden and Norway to Guam and Japan and all over the U.S. of A. with his partner in comedy, the legendary Pablo Francisco. Savoy's high-impact, rapid-fire hilarity belies his mellow mood and laidback attitude. Sean recently appeared on Gotham Comedy Live, in his television debut and electrified the crowd. Combining diverse characters with a wicked wit, Savoy can reach any audience with his timeless material, while meeting his expressed goal – to bring joy with his jokes and heal hearts with humor, all while bringing as much fun to his audiences as he's having on stage.