About the Show
Price: $10
When: Sunday 7:00
Spotlight: Hark, ye brave warriors and tabletop RPG nerds alike! DC comedy collective The Midnight Gardeners League is embarking on a journey from the darkest dungeons to the most dangerous dragon lairs to seek out the funniest adventurers they can find, and you're invited along for all the death and glory. Laugh Quest pits hilarious stand-up comedians against one of the greatest roleplaying campaigns ever created. And the audience helps decide what direction this epic tale will take! Hosted by a wizard and featuring appearances from some familiar faces from the world of fantasy, this ale-soaked night of swords, sorcery and side-splitting laughs is sure to satisfy even the most casual of genre fans who saw like half an episode of Game of Thrones once and that's it.
Featuring: TBA
About the Comics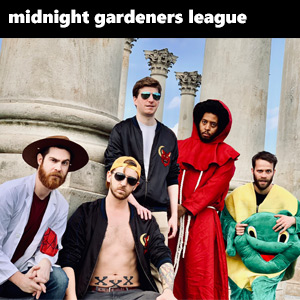 The Midnight Gardeners League (official website) is the world's first ever comedic secret society that's entirely open to the public! Regular meetings center around themed showcases of stand up, sketch comedy, improv & other weird fun, which have been featured in the 2018 Charm City Comedy Festival and Portland Maine Comedy Festival, as well as the 2019 Laugh Index Theater Festival. Anyone who attends a show can be entertained for a night, and a member for life!
Featuring Pete Musto, Yoki Danoff, Kevin Tit, Andrew Hall and Max Wolfson.