About the Show
Price: $18 - $22
When: Thursday 7:30, Friday 8 / 10, Saturday 7:30 / 9:45
Spotlight: The Next Wave series gets you up close with up-and-coming headliners. Marshall Brandon has been honing his craft for two decades, travelling the country and working with big-name stars. We've seen him here at the Improv the last few years as the feature act for Donnell Rawlings, and he even headlined our lounge a few years ago. Now he back for five more shows of rapid-fire laughs.
Featuring: TBA
About the Comics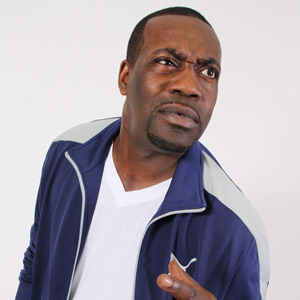 Born and raised in Hartford, Connecticut, Marshall Brandon has been making people laugh since he uttered his first words. After earning his B.A. in Criminal Justice from Western Connecticut State University he decided to aggressively pursue a career as a professional comedian and writer. To hone his skills, Marshall entered various competitions. In 2000, through hard work and dedication, he won first place in CPTV's annual Connecticut Comedy Festival which features the best new comics from New England, earning the illustrious title of "Funniest Person in Connecticut.", and an Emmy nomination from the Boston / New England Chapter of the National Academy's of Television Arts and Sciences. In the years since, Marshall continues to writes and present new material and has established himself as one of the hardest-hitting comedians in the country and has worked with many of today's most well known comedians. Some of the bona fide head liners that he has opened for include: Kevin Hart, Katt Williams, Mike Epps, John Witherspoon and D.L Hugely. He has also featured on cards for numerous R&B and Hip-Hop acts such as, LL Cool J, DMX, Trey Songs, Aretha Franklin. Marshall has appeared on TV1 Bill Bellamy's Who's Got Jokes, Comedy Central (commercial) and BET's Comic View three times and portions of his routine are shown frequently during the off-season on Classic Comic View.
In his many years of doing stand-up, Marshall has torn down venues…from the smallest clubs to the largest arenas. He is constantly working to perfect his craft and maintains a very busy schedule frequenting theatres and clubs. He has performed at many well-known venues such as; The Comedy Connection, Stand Up NY, Comic Strip Live , The Improv, The Funny Bone, Gotham Comedy Club, Dangerfields and Caroline's . Transcending cultural boundaries, Marshall can be found working anywhere in the world. Most recently he has performed in England, Germany, Holland, Barbados, Haiti and the Dominican Republic. Demonstrating unusual versatility, he will have ANY audience holding their stomachs in laughter and leave them begging for more.