About the Show
Price: $20 Thursday, $23 Friday and Saturday
When: Thursday 7:30, Friday 7:30 and 9:45, Saturday 7 and 9:30
Spotlight: Twitter stardom allowed Jenny Johnson (@JennyJohnsonHi5) to leave behind a career as a news producer in Texas and head to L.A. She's been killing it ever since, growing her online fanbase, expanding her reach as a comedy writer and stepping out as a headlining stand-up. She sold out our lounge in 2019 and 2020 and she's back for more in 2023.
Featuring: Danny Zuker
About the Comics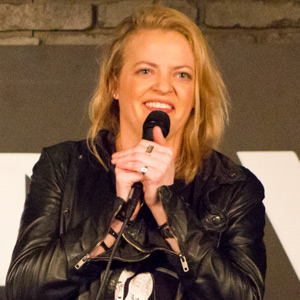 Jenny Johnson is a former television sports and news producer turned stand up comedian and writer. She grew up in Bay City, Texas just south of Houston and graduated from Sam Houston State University with a BFA in Broadcast Journalism. While working for ABC News she joined Twitter and gained a following of nearly 400,000. From this she was able to sell her first pilot to ABC followed by pilots at FX, HBO and E! She has written for publications like GQ, Esquire, Paper Mag and Glamour. Jenny was even crowned the Queen of Twitter by TRadioV and National Lampoon at their Twitter Awards ceremony. Jenny has been nominated for a People's Choice award 8 years running for Best Social Media and was named Funniest Houstonian by Houston Press Magazine.
Jenny began appearing in shows such as @midnight, Drunk History, Liza On Demand and The Mick. She began her stand up comedy career in 2015 and toured with comedians such as Nick Swardson, Anthony Jeselnik, Fortune Feimster and Brad Williams. She is the co-host of the Doin' It With Danny Zuker and Jenny Johnson Podcast. Jenny can regularly be seen doing stand up around Los Angeles at the Laugh Factory, The Improv and Flappers Comedy.