About the Show
Price: 12
When: Thursday 7:30
Spotlight: Homeless Fireparty hosts the most outrageous pageant to ever grace the stage! All kinds of alternative facts, conspiracy theories, and biased interpretations of evidence are welcome, but only the most beautiful, most talented information can be crowned Miss Information 2023! You'll laugh, you'll cry, you'll be amazed as snippets, factoids, and trivia compete for the highest honor information can earn!
Featuring: Gray West and Sean Cantatore
About the Comics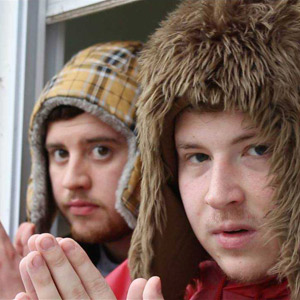 Homeless Fireparty is a Washington, DC-based comedy group. Their madcap antics, outrageous characters, and absurd video sketches are known for sweeping audiences into a phantasmagoric swirl of vaudevillian quips, uninhibited satire, and devastating ennui. They have been seen at Sketchfest Seattle, Philly Sketchfest, and here at the DC Improv.
Seann Cantatore is an NYC-based musical comedian, absurdist, and professional kind person who regularly performs music, sketch and improv, both as a solo act and as half of the comedy duo "Bring Your Own Bob." She believes in humor that welcomes everyone to the party, and seeks to bring people together through laughter and song. With her whimsical wit and inviting presence, you'll feel right at home snort-laughing or confronting your deepest emotional vulnerabilities. Seann has been sighted at NYC's Magnet Theater, The People's Improv Theater, The Duplex, Broadway Comedy Club, and most recently made her California debut at Finest City Improv in San Diego. Follow her on Instagram at @seanncantatore and check out her website seanncantatore.com.