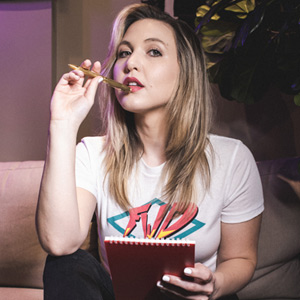 October 15-18 / $20-$22
Rescheduled from April. Netflix, Conan, Self-Helpless Podcast, Last Comic Standing
Spotlight
Taylor is a star on the rise. One of the youngest headliners on the comedy club circuit, she has already been featured on Netflix and made appearances on "Conan," "The Tonight Show" and "Last Comic Standing." Her stand-up is honest, fearless and fun -- she was one of our favorite acts from 2018 and 2019. Check out her third headlining appearance with us this spring.
Price: $20 Thursday / Sunday, $22 Friday / Saturday
Showtimes: Thursday 7:30, Friday 7:30 / 9:45, Saturday 7:00 / 9:30, Sunday 7:00
Featuring: TBA
Official Bio
Official website | Instagram | Facebook | Twitter
Taylor Tomlinson has been featured on "Conan," MTV's "Safe Word," Comedy Central's "Adam Devine's House Party," was a top ten finalist on season 9 of NBC's "Last Comic Standing," and her stand-up special is currently streaming on Netflix. Taylor was recently honored as a Top 10 Comedian To Watch at the prestigious Montreal Comedy Festival.
Taylor started doing stand-up at just 16 years old and has been letting stand-up slowly ruin her life ever since. She is one of the country's youngest currently touring headliners, delighting audiences coast-to-coast with her sharp crowd work, biting wit, and wonderfully self-deprecating point of view.
Tomlinson co-hosts The Self-Helpless Podcast.