June 23 / $25
The "Wild 'N Out" start comes to DC for one night only. Featuring Tyler Chronicles.
Spotlight
You've seen Darren Brand all over -- he's one of the stand-outs on "Wild N Out," and his other projects with MTV have had him all over your TV screen. And he's a great stand-up, who has graced our stage in the past as part of the Freestyle Funny comedy tour. Now he's back for another night of live comedy, and he's bringing along some of his favorite comedy friends.
Price: $25 general admission
Showtimes: Sunday 7:00
Featuring: Tyler Chronicles
Official Bio
Official website | Instagram | Facebook | Twitter
Darren Brand, also known as Big Baby, is a American comedian, writer, producer, actor, and host best known for being a member of the comedy group "The Freestyle Funny Comedy Show" along with his fellow cast members, Chico Bean and B-Daht. He is one of the recurring cast members of "Wild 'N Out" on MTV and MTV2. Besides him being a cast member of WNO, he has also made numerous appearances in Season 3 of another MTV show, "Joking Off." Brand also hosted the nomination special for the 2017 BET Awards and also appeared in a special revealing the nominations a year later. In 2018, he secured his first national commercial project with McDonalds and is starring in the MTV web series "Basic to Bougie."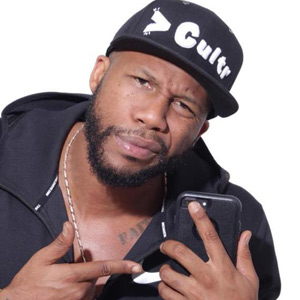 Tyler Chronicles
Tyler Chronicles was born in Inglewood, CA and immediately knew he was here to make people laugh, but chose to pursue his first love of basketball. Basketball lead him to receiving a BA in Communications and an MBA in Managerial Economics. Learning quickly that the corporate world would not be satisfactory he decided to audition for an Improv Group (Snack Pack Comedy). Shortly after joining the crew he ventured out to do Stand-Up, and has been on stages ever since. He is most known for his off the top freestyling flow of comedy and hosting events from Comedy Shows, Family Reunions, Corporate Events and even Athletic Events. Tyler has opened for comedians such as Cedric The Entertainer, Rodney Perry, Joe Torry and a host of others. When Tyler is not filming for shows you can catch him touring the country changing lives one laugh at a time. Tyler was recently selected as one of the most talked about comedians by Comedy Hype. Make sure you tune in to WE TV'S Bossip on Thursday nights where Tyler is a lead cast member. You can also catch him on MTV's Wild N Out with the one and only Nick Cannon and his Hilarious cast.