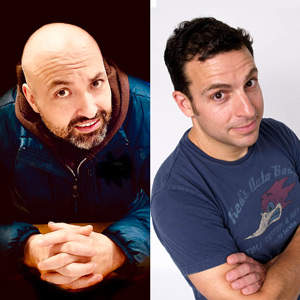 One-hour sessions
Get one-on-one coaching from our stand-up comedy instructors, Chris Coccia and Rahmein Mostafavi. All sessions are via video conferencing.
Course Description
The stand-up instructors from the DC Improv Comedy School are now available for one-on-one online coaching. Whether you're pursuing standup as a career, a paid hobby or just for the fun of it, Chris Coccia and Rahmein Mostafavi have insight and advice that can help you out. Coaching sessions can cover feedback on new material; advice on shaping your act; tips on joke writing and other comedy basics; or information on how the business side of comedy works. Just let your coach know what you want.
Each "ticket" you purchase is good for a one-hour coaching session, conducted via video conferencing, with the instructor you choose. Once you have made your purchase, your contact info will be sent to the coach, and they will schedule the session with you directly. (Please note that a session purchased for one coach is not transferrable to the other coach, and once a session is purchased there are no refunds.)
Prerequisite: Students should have prior experience performing stand-up comedy. People seeking feedback on material or overall performance are strongly encouraged to provide video to their coach in advance of the coaching session. Coaching sessions will be held via videoconference, so participants must have a reliable Internet connection and a computer or device with with a webcam and microphone.
Sessions will be scheduled directly with your coach. All sessions will be conducted through videoconferencing.
$50 for each one-hour coaching session
Participants should have prior experience performing stand-up comedy.
About Chris Coccia (Five Minutes to Funny Instructor)
Chris Coccia started teaching stand-up at the DC Improv in 2006, but he was a regular on the DC Improv stage way before that. Friendly, funny and accessible, he has a real gift for connecting with audiences of all types. His act is a perfect combination of hilarious material and the ability to present it "in the moment." Flowing seamlessly between material and improvised interaction with the crowd, Chris is able to open the audience up as he pulls them into a shared recognition of our own human-ness.
Chris keeps a full schedule working everything from the country's top comedy clubs to corporate events to colleges. In addition, he won the 2008 Purina Pet Comedy Challenge, a national event with a $10,000.00 prize. He was also invited to be part of the Great American Comedy Festival in Johnny Carson's Nebraska hometown, put together by the talent coordinator of "The Late Show with David Letterman," Eddie Brill. He has appeared on Comedy Central, The Game Show Network, and XM Radio. Chris is also a frequent and favorite guest on several Philadelphia based radio shows.
About Rahmein Mostafavi (Level 2 Stand-Up Instructor)
Official website | Instagram | Facebook | Twitter
Rahmein Mostafavi charms crowds with comic timing and charisma developed during a decade of live performance. He addresses social and political topics with a combination of satirical and observational comedy, leaving audiences with a greater sense of purpose, sex appeal and the occasional leg cramp.
Rahmein entered the stand-up world after working as a longtime cast member of "Shear Madness," the acclaimed Kennedy Center improv/comedy whodunit. His natural joke writing ability, combined with his acting chops, have won him rave reviews in both the Washington area and around the country. He also produces events under the "Cool Cow Comedy" banner, bringing live comedy to venues in Maryland and Virginia.
Rahmein has shared the stage with some of the best comics in the nation, including Dave Attell, Jake Johannsen, Artie Lange, Bert Kreischer, Rich Vos, Jon Lovitz, Tim Meadows, Joe Matarese, Bob Marley, The Sklar Brothers, Jen Kirkman, Red Grant, Godfrey, Joe Torry, Kyle Kinane, Finesse Mitchell, and Maz Jobrani. He has been featured at the Laugh Your Asheville Off comedy festival, The Devil Cup, Red Clay, The Cleveland Comedy Festival, and the Cape May Comedy Festival. Rahmein has been seen on FOX, heard regularly on Sirius XM, was featured in "The Truth About Money" on PBS, and was honored to be a speaker at the world famous TEDx Talks.
Born in Iran, Rahmein moved to the United States with his family at a very young age. He currently resides in Northern Virginia.