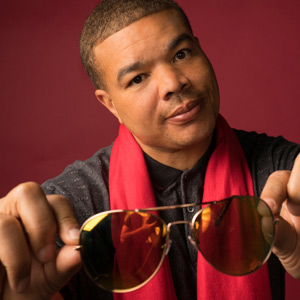 January 3-5 / $20-$25
HBO, Showtime, Shaq's All-Stars, Comedy Central, Katt Williams tours. Featuring Kevin Tate.
Spotlight
DC native Red Grant is back! Famous for his distinctive laugh and his raw comedy, Red has traveled the country with Katt Williams, as one of Shaq's comedy all-stars and touring with Snoop Dogg. He runs the biggest clothing store in Vegas (The Place) and since 2018 he's been talking about running for mayor of The District. But he still finds the time for the fans in his hometown! Join us as Red starts our 2020 with a bang.
Price: $22 Friday, $25 Saturday, $20 Sunday
Showtimes: Friday 7:30 / 9:45, Saturday 7:00 / 9:30, Sunday 7:00
Featuring: Kevin Tate
Official Bio
Official website | Instagram | Facebook | Twitter
Red Grant is an American comedian, actor, writer, and producer. Known for his infectious laugh and his unrelenting work ethic, Red spends a solid 48 weeks a year on the road doing standup.
Red began his career in 1996 performing at New York's Apollo Theatre. He's since gone on to star in such films as "American Hustle" and "First Sunday" alongside contemporaries Katt Williams, Ice Cube and Tracy Morgan. Red has performed on "Shaq's All Star Comedy Jam" and appeared in Comedy Central's "Reality Bites Back." He has written for Snoop Dogg's "Dogg After Dark" and Comedy Central's "Roast of Flavor Flav." And he has graced the small screen in his own hour-long Showtime special "Caught Red Handed" and Comedy Central Presents' half-hour special "Red Grant."
Passionate about the world of entertainment, Red took the next step and made a name for himself as a producer, writer and director for film and television. In 2000, he wrote and produced his first film "Family Reunion." He then went on to create and produce a number of projects for the Viacom Network through his film company MOVIEOS in partnership with Lionsgate Entertainment.
As an avid golfer and humanitarian, Red takes pride in giving back to the community, which he does with his annual charity golf tournament "Golf Beef." Some of his cohorts who've joined him for the event include Snoop Dogg, actor/comedian Cedric The Entertainer, Hall of Famers Gary Payton and Jim Brown, former NBA champion Matt Barnes, and long-drive champion Troy Mullins -- to name a few.
Red was born and raised in Washington DC and currently resides in Los Angeles. #whotheheckisredgrant