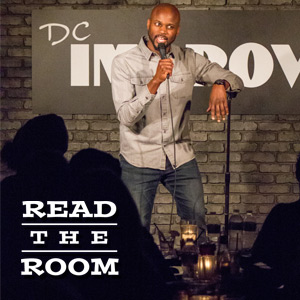 March 26 / $10
Lounge showroom. Check out a unique comedy experience as Tim Miller hosts a lineup of top local talent doing crowd work.
Spotlight
Some stand-ups really know how to work a room. "Crowd work" is the art of chatting with the audience when on stage. When done right, it creates a conversational atmosphere -- sometimes building a bridge to a comedian's best jokes, and sometimes leading to totally unscripted, in-the-moment laughs.
Here in the DMV, Tim Miller is one of the best at crowd work. At "Read the Room" he hosts a lineup of local talents doing predominantly crowd work. Join him in our lounge showroom for what could be a unique, unforgettable live comedy experience.
Tim has been on Comedy Central & TRU TV and is also the host of Read the Room podcast on Podbean, iTunes and wherever you enjoy podcasts.
Price: $10 general admission
Showtimes: Thursday 7:30
Featuring: TBA
Tim Miller
Tim D. Miller is a master at engaging audiences and crafting a stand-up set that is a guaranteed good time for all. Tim's material is based on his life experience from Waco to the White House, trying to raise a daughter, and his unique ability to find the funny in everyday life. Tim has appeared on TRU TV and in 2019 he performed at Comedy Central's Clusterfest.