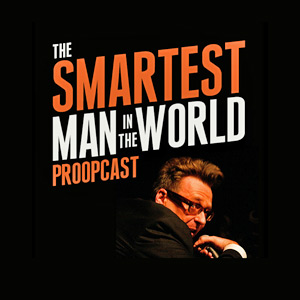 June 2 / $20
A live "proopcast" recording starring the great Greg Proops, as seen on "Whose Line" and more.
Spotlight
Greg Proops is The Smartest Man In The World: It's just Proops and you. There's no fanfare. Proops takes center stage at small table and chair setup with a single microphone. Then he's off. An hour of great conversation that flies by at a break neck clip. He crams the feeling of a great two-way conversation into the lecture-style format of a one-way conversation.
Part professorial, part crazed comedian, Proops forms the show around his talent and passions. The show flows like a love letter to tangents. The Proopcast has been to Australia, New Zealand, Montreal, London, Edinburgh, Austin, Cleveland, San Francisco and off the coast of St. Martin in the Caribbean all in one year. Now you must fall.
Be there and experience joy for once in your life.
Price: $20 general admission
Showtimes: Sunday 7:00
Official Bio
Official website | Instagram | Facebook | Twitter
"Here he is, though, in front of a live audience each week, bravely recording some of the boldest comedy on the podcasting frontier right now." -Rolling Stone Magazine
Greg Proops is a stand up comic from San Francisco. He lives in Hollywood. It's not that bad. Really.
The Proopdog is best known for his unpredictable appearances on "Whose Line is it Anyway?" Both US and UK. Starting it's 4th season on the CW. Stand-up Greg has a new album out called In the Ball Park. Recorded live in his beloved San Francisco. Available on iTunes and from aspecialthing records.
Professor Proops has a hit Podcast called The Smartest Man in the World. He records it live in Australia, New Zealand, Montreal, Edinburgh, Amsterdam, San Francisco, Austin, London, Paris aboard a ship in the Caribbean and somehow, Cleveland. Find it at Proopcast.com.
"Funny, political, literate, and bold—all at once." -New York Journal of Books
Mr. Proops' book "The Smartest Book in the World" is based on his awardseeking podcast. He did a podcast and signing at Shakespeare and Co. in Paris.
Greg has lent his voice to Hell and Back, Star Wars the Phantom Menace, The Nightmare Before Christmas and he really was Bob the Builder. Gregory did a West End run of Whose Line is it Anyway? This summer at the Adelphi Theatre in London. The Greg Proops Film Club a popular podcast digging vintage movies is available on iTunes. He has recorded at the TCM Film Festival, Edinburgh and the Cinefamily in Hollywood. Movie Greg hosted Pirate movies on TCM. Proople rain was a frequent guest on @midnight on Comedy Central.
You may Socially Network with Greg on Twitter at @gregproops.