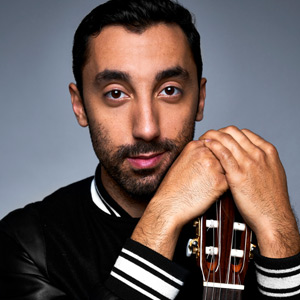 February 28-29 / $20
Lounge showroom. DC Improv debut! Music comedy from a stand-out on "Bring the Funny"
Spotlight
Morgan Jay is changing the way people think about music comedy, integrating his original songs with unique "musical crowd work" skills that he developed performing all around the country. The New Jersey native has roots in stand-up comedy, RnB and Bossa Nova. He wowed the judges on NBC's "Bring the Funny" in 2019, and in 2020 he's set to make his DC Improv debut.
Price: $20 general admission
Showtimes: Friday 7:30 / 9:45, Saturday 7:30 / 9:45
Featuring: TBA
Official Bio
Official website | Instagram | Facebook | Twitter
Morgan Jay is a first generation American performer based out of Los Angeles. Morgan was most recently featured in NBC's competition show "Bring The Funny," where he made it to the semi-finals by impressing both America and the judges (Jeff Foxworthy, Chrissy Teigan, and Kenan Thompson). Originally from New Jersey, he started his career in NYC where he attended the Tisch School of the Arts. With more than eight years of stand up experience and an extensive background in music, Morgan has managed to create a unique performance that touches comedy and music fans alike with his smooth melodies derived from his love for classic RnB and Bossanova. Morgan has performed at the 2019 Laughing Skull Comedy Festival, the 2017 San Francisco Sketchfest, the 2017/2018 Big Fire Festival, and can be seen at clubs and colleges across the country. Morgan is a regularly featured artist for sofarsounds.com, and won 1st Prize for best comedy/novelty song in the International Songwriting Competition which received more than 16,000 submissions.