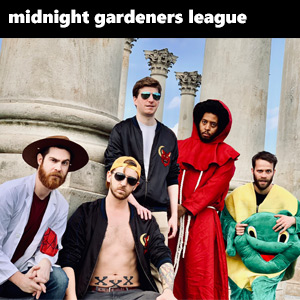 September 29 / $6
Lounge showroom. DC's comedic secret society returns to the Improv for A Night of "Fine Dining."
Spotlight
The Midnight Gardeners, DC's only secret society dedicated to clandestine global domination through high quality comedy content, returns to the DC Improv with a smorgasbord of stand-up, sketch, improv and other weird fun. Join us as we help disgraced celebrity chef Tito Failuré launch a pop-up restaurant in the Improv Lounge as one last ditch attempt to regain his former glory and once again be named the premiere culinary mastermind of our generation. Enjoy a sumptuous feast of laughter, parsed out into several delectable "courses," crafted from the talents of organic, locally sourced acts that are truly unlike anything you'll see in any other kitchen or comedy show. This is the ultimate humorous dining experience... although, full disclosure, food and drinks are not included with the ticket.
Price: $6 general admission
Showtimes: Sunday 7:15
Official Bio
Official website | Instagram | Facebook | Twitter
The Midnight Gardeners League is the world's first ever comedic secret society that's entirely open to the public! Regular meetings center around themed showcases of stand up, sketch comedy, improv & other weird fun, which have been featured in the 2018 Charm City Comedy Festival and Portland Maine Comedy Festival, as well as the 2019 Laugh Index Theater Festival. Anyone who attends a show can be entertained for a night, and a member for life!
Featuring Pete Musto, Yoki Danoff, Kevin Tit, Andrew Hall and Max Wolfson.