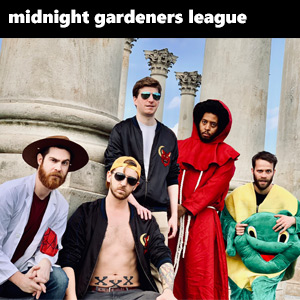 December 8 / $6
Lounge showroom. DC's only comedic secret society returns for another mash-up of sketch, improv and stand-up.
Spotlight
We're back with another show from DC's only comedic secret society (that is entirely open to the public). The Midinght Gardners serve up off-the-wall satire, combining sketch comedy, improv and stand-up to tackle pop culture in a way you won't forget. So far they've brought us an induction ceremony for the Soft Rock Hall of Fame (in July) and a takedown of celebrity chefs (in September). Who knows what December will bring? You'll find out as soon as we do ...
Price: $6 general admission
Showtimes: Sunday 7:00
Official Bio
Official website | Instagram | Facebook | Twitter
The Midnight Gardeners League is the world's first ever comedic secret society that's entirely open to the public! Regular meetings center around themed showcases of stand up, sketch comedy, improv & other weird fun, which have been featured in the 2018 Charm City Comedy Festival and Portland Maine Comedy Festival, as well as the 2019 Laugh Index Theater Festival. Anyone who attends a show can be entertained for a night, and a member for life!
Featuring Pete Musto, Yoki Danoff, Kevin Tit, Andrew Hall and Max Wolfson.