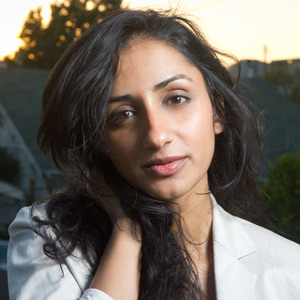 January 10-11 / $18-$20
Lounge showroom. DC Improv debut! Sunnyside on NBC, "Hysteria" podcast, Vice.com, The Mindy Project
Spotlight
Kiran Deol is an actor starring on the NBC comedy "Sunnyside," from Mike Schur and Kal Penn. She's a co-host on Crooked Media's "Hysteria" podcast and tours regularly as a stand-up comedian. As a writer/director, Kiran has made films for HBO and Sundance, been nominated for an Emmy, and shortlisted for an Academy Award. She loves naps and ice cream. And she's making her DC Improv debut this winter!
Price: $18 Friday, $20 Saturday
Showtimes: Friday 7:30 / 9:45, Saturday 7:30 / 9:45
Featuring: TBA
Official Bio
Official website | Instagram | Facebook | Twitter
Kiran Deol is a comedian, filmmaker, and actress whose work tackles difficult topics with intimacy, poignancy, and humor. This fall, you can see her playing Kal Penn's sister Mallory in the NBC series "Sunnyside," from executive producer Mike Schur. Other TV credits include "How to Get Away With Murder," "The Mindy Project," "Modern Family," "New Girl," "Weeds," "Parenthood," "Grey's Anatomy" and "Newsroom." She hosted the series "Soul Food" for Vice.com, and the documentary series "Spotlight California."
Her film credits include a lead in the independent feature film "Farah Goes Bang," which debuted at the Tribeca Film Festival and won the first ever Nora Ephron Prize. As a filmmaker, her film "Woman Rebel," a documentary about women rebel soldiers, was nominated for an Emmy, shortlisted for an Oscar, and distributed by HBO. Additionally, Sundance Now released her short film "American Haze," about her experience as a first generation immigrant. She is also a regular host on Crooked Media's all-female podcast "Hysteria."