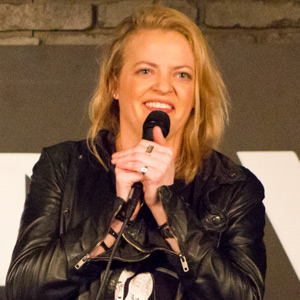 March 6-7 / $20
Lounge showroom. Drunk History, @JennyJohnsonHi5, Doin' It with Danny and Jenny.
Spotlight
Twitter stardom allowed Jenny Johnson (@jennyjohnsonhi5) to leave behind a career as a news producer in Texas and head to L.A. She's been killing it ever since, growing her online fanbase, expanding her reach as a comedy writer and stepping out as a headlining stand-up. In 2019 she sold out four shows for her DC Improv debut weekend, and now she's back for four more in 2020.
Price: $20 general admission
Showtimes: Friday 7:30 / 9:45, Saturday 7:30 / 9:45
Featuring: TBA
Official Bio
Instagram | Facebook | Twitter
Jenny Johnson is a comedian and writer who gained an audience from her popular Twitter account, @jennyjohnsonhi5. Jenny is a graduate of Sam Houston State University. She spent 12 years producing sports and television in Austin, San Antonio and Houston before making the move to Los Angeles to pursue her comedy career. Jenny has sold pilots to ABC, FOX and HBO. she is a frequent contributor to GQ and Esquire. E! recently made a pilot based on her popular Instagram account. Along with writing she performs stand-up shows in Los Angeles and tours frequently with Nick Swardson, Whitney Cummings, Anthony Jeselnik and Brad Williams. Jenny has appeared on "Drunk History," "The Mick," "The Joe Rogan Experience," "The Josh Wolf Show," "Red Eye," "Liza On Demand," "Valerie Bertinelli's Home Cooking" and "@midnight." She co-hosted the "Doin' It with Danny and Jenny" podcast with "Modern Family" executive producer Danny Zuker.
Jenny is a 5 time nominee for a People's Choice Award for Favorite Social Media Star and is the reigning Queen of Twitter following the National Lampoon Twitter Awards. Jenny has gained almost 400,000 followers on Twitter and close to 80,000 on Instagram with her unique brand of comedy. Jenny can be seen performing stand-up around Los Angeles at The Improv, The Comedy Store, Flappers and The Laugh Factory.