November 22-23 / $20
Lounge showroom. Black-ish, Big Mouth, The Comedy Lineup on Netflix, Comedy Central
Spotlight
Seattle native Jak Knight has been getting notice for both his writing (on "Black-ish," "Big Mouth" and more) and his stand-up. He has toured the globe, appeared at all the big-time comedy festivals, recorded a Netflix special ... and now, he's back to headline the DC Improv lounge for a third time.
Price: $20 general admission
Showtimes: Friday 7:30 / 9:45, Saturday 7:30 / 9:45
Featuring: Kevin Iso
Official Bio
Official website | Instagram | Facebook | Twitter
Originally from Seattle, Jak is an LA-based stand-up comic, writer, and actor. Jak is currently an executive story editor on "Blackish." Before that, he was a writer and voiceover actor on "Big Mouth." Jak also was featured as 'Denver' in the NBA2k game, alongside Hannibal Buress and Michael B Jordan. He was named a 2014 Comedy Central Comic to Watch, a 2015 New Face at the Montreal JFL Festival and a 2018 Time Out Comic to Watch. He performed at the main stage of 2015's Oddball Comedy Festival headlined by Amy Schumer and Aziz Ansari, and has opened for various stand-ups including Joel McHale, Eric Andre, Moshe Kasher, Aziz Ansari and Dave Chappelle. He has since headlined for clubs, colleges, and festivals globally. He can be seen on television on "The Meltdown with Jonah and Kumail," "@midnight" and "Adam Devine's House Party." His Netflix special aired in 2018 as a part of the "The Comedy Lineup" series.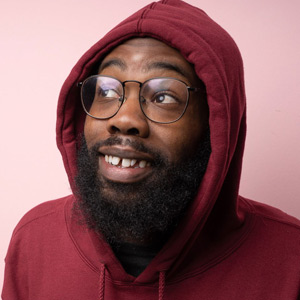 Kevin Iso
Originally from Houston, Kevin Iso began performing stand up all across Texas before moving to New York where he has been honing his skills. Kevin has performed at the Montreux Comedy Festival in Switzerland, the Funny or Die Oddball Festival, and Bridgetown Comedy Festival. After being named one of Comedy Central's Comics To Watch in 2015, Kevin's stand up was featured on AXS TV's Gotham Comedy Live, Comedy Central's Adam Devine's House Party and YouTube Red's Alexander IRL. On top of performing stand up, Kevin is the co-creator of the hit web series, Flatbush Misdemeanors.