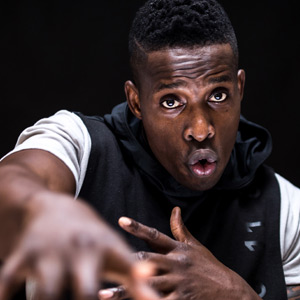 June 27-30 / $20-$25
SiriusXM's Urban View, Showtime, Comedy Central, Zoolander, Bullseye, Late Night, TruTV, The Comedy Cellar. With Eagle Witt.
Spotlight
Godfrey goes big. He grew up in the melting-pot city of Chicago with Nigerian parents. Before long, he learned to make all kinds of people laugh with voices, wide-eyed expressions and a high-energy style of comedy. Today, he still strives to put on a show that breaks through barriers. In addition to being a comedy club favorite, Godfrey has recorded one-hour specials for Comedy Central and Showtime, served as a national spokesman for 7UP and hosted the gameshow "Bullseye" on FOX. Check out one of the hottest touring comics going ...
Price: $20 Thursday / Sunday, $22 Friday, $25 Saturday
Showtimes: Thursday 7:30, Friday 7:30//10:00, Saturday 7:00/9:30, Sunday 7:00
Featuring: Eagle Witt
Official Bio
Official website | Instagram | YouTube | Twitter
Godfrey is one of the hottest comedians on the circuit. Growing up in Chicago, he constantly got in trouble for misbehaving and being an all-around class clown. Godfrey's Nigerian parents unknowingly encouraged his bad behavior by showing him classic comedy films from an early age. While performing impressions of his college football teammates, Godfrey realized his irreverent style of comedy might be more than just a hobby.
As soon as Godfrey went pro, he immediately landed several high profile projects. Ben Stiller cast him to play himself in "Zoolander," a performance that has since achieved cult status. Godfrey's more recent film roles in "Johnson Family Vacation," "The Cook Out" with Queen Latifah, "Phat Girlz" starring Monique, and "Soul Plane," alongside Snoop Dogg. Godfrey is perhaps best known for his stint as the "7UP Guy" in the beloved 7UP national campaign.
Godfrey has also made many television appearances including performing on "Late Night with Jimmy Fallon" and recently starred in his own one-hour special for Comedy Central, "Godfrey: Black By Accident." Godfrey played the lead in a pilot for FX called "Bronx Warrants." He developed an animated pilot for FOX that was based on his comedy act, and can regularly be seen on "Shaquille O'Neal's Upload" on TruTV.
In addition to his film and television work, Godfrey is one of the hottest comedians on the road today. His one-man show, The Godfrey Complex, was a major hit at the Just For Laughs festival in Montreal. GQ Magazine said that Godfrey "is set to be one of the biggest performers in the US in 12 months," following his run at the festival. Godfrey can be seen hosting and headlining some of the most prominent comedy clubs across both coasts including: The Comedy Cellar, the Comic Strip, Caroline's Comedy Club; and The Laugh Factory and The Improv in Los Angeles.
Eagle Witt
Eagle Witt can be found in any and every comedy club in New York City. In 2017 he won The Devil Cup. In 2018 he was a finalist in Comedy Madness as well as well as NY Funniest as a part of the New York Comedy Festival. His credits include MTV, Amazon Prime, Kevin Hart's LOL NETWORK, SiriusXM, Cosmopolitan, Elite Daily, CollegeHumor and FusionTV. Join his more than 20k followers on instagram or follow him on twitter. You can find him on both @eaglewitt. Not to mention he has the best hair in comedy.