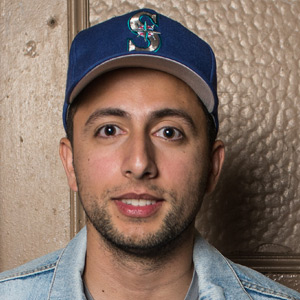 January 23-26 / $20
DC Improv debut! Goatface on Comedy Central, Conan, Late Night with Seth Meyers, Drunk History
Spotlight
Fahim left the chaotic world of aerospace engineering for the much safer comedy business -- and the move is paying off big time. The Seattle native (with Afghan roots) is getting noticed for his acting and sketch comedy work, such as the critically acclaimed "Goatface" special with Hasan Minhaj on Comedy Central. And his stand-up has been turning heads too, with appearances on "Conan," "Late Night" and lots more. Check out his DC Improv debut this winter.
Price: $20 general admission
Showtimes: Thursday 7:30, Friday 7:30 / 9:45, Saturday 7:00 / 9:30, Sunday 7:00
Featuring: TBA
Official Bio
Official website | Instagram | Facebook | Twitter
Fahim Anwar is a Los Angeles-based standup comedian, actor and writer. Formerly an aerospace engineer at Boeing, Fahim traded the cubicle for the stage and has never looked back. His parents however plead with him to look back nearly every day. "Is comedy worth throwing your life away for?" Fahim says, yes!
Off the momentum of his one hour special THERE'S NO BUSINESS LIKE SHOW BUSINESS, The New York Times listed Fahim as a "Most Promising Future Star." He has appeared on CONAN, LATE NIGHT WITH SETH MEYERS and performed at the prestigious Just for Laughs Festival in Montreal. His recent FILM/TV credits include WHISKEY TANGO FOXTROT, NEIGHBORS, DRUNK HISTORY, CARMICHAEL SHOW and SUPERIOR DONUTS to name a few. Currently, Fahim is serving as head writer and starring on a sketch show special for Comedy Central with his comedy group (GOATFACE) which includes Hasan Minhaj from THE DAILY SHOW.