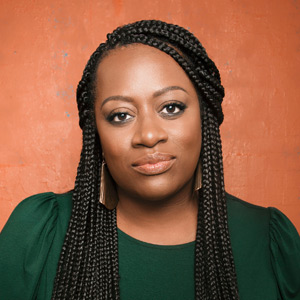 August 30-31 / $18-$20
Lounge showroom. A DC Improv favorite! Conan, Last Comic Standing, The Ellen DeGeneres Show, ASPiRE, NFL Network, Comedy Central. With Tim Miller.
Spotlight
Erin started her entertainment career right here in Washington, working her way from the open mic circuit to the Improv stage. She found national success, with appearances on "Last Comic Standing" and "Ellen," and comedy has taken her around the country again and again. Just last summer she recorded her first album, in our lounge showroom. Now she's back to headline three more shows in the lounge on Labor Day weekend.
Price: $18 Friday, $20 Saturday
Showtimes: Friday 8:30, Saturday 7:30 / 9:45
Featuring: Tim Miller
Official Bio
Official website | Instagram | Facebook | Twitter
Armed with a megawatt smile and a pocket full of dreams, Erin Jackson is poised to conquer the world of stand-up. In fact, she'd probably be a superstar by now if her friends and family hadn't spent so many years hating on her dreams and stealing her joy.
Since first making a name for herself at colleges and east coast comedy clubs, Erin's conversational style and relatable humor have helped to propel her onto the national stage. She was a semifinalist on NBC's "Last Comic Standing," and co-hosted three seasons of "Exhale," a panel talk series on the ASPiRE television network.
Erin can be seen nightly in many of New York City's top comedy clubs, and her stand-up has been featured on "The Ellen DeGeneres Show," Comedy Central's "Live at Gotham," OWN's "Wanda Sykes Presents Herlarious," and AXS TV's "Gotham Comedy Live." She's also appeared on MSNBC, NFL Network, truTV, VH-1 and TV Guide Network as a panelist on numerous sports and pop-culture shows.
A proud alumna of Howard University, Erin is obsessed with the Philadelphia Eagles.
Tim Miller
Tim D. Miller is a master at engaging audiences and crafting a stand-up set that is a guaranteed good time for all. Tim's material is based on his life experience from Waco to the White House, trying to raise a daughter, and his unique ability to find the funny in everyday life.