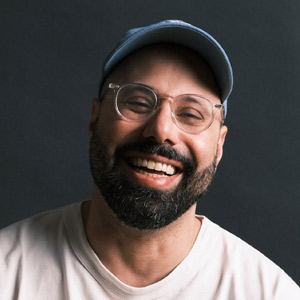 April 10-11 / $20
Lounge showroom. DC Improv debut! Ramy on Hulu, Comedians of the World on Netflix
Spotlight
Born in Windsor, Ontario, Dave found a love for comedy at a young age. His aggressive, in-your-face style is mixed with enthralling storytelling. He's even getting noticed as an actor -- you can see him as one of the co-stars of the Emmy-award-winning Hulu series "Ramy." Check out the DC Improv debut of this undeniable talent, this spring in our lounge showroom.
Price: $20 general admission
Showtimes: Friday 7:30 / 9:45, Saturday 7:30 / 9:45
Featuring: TBA
Official Bio
Official website | Instagram | Facebook | Twitter
Dave Merheje co-stars alongside Ramy Youssef and Mo Amer in the new comedy series "Ramy" on Hulu. As a stand up, Dave has made multiple appearances at the Just For Laughs Festival in Montreal, JFL42 in Toronto, Winnipeg Comedy Festival, the Halifax Comedy Festival, the Melbourne International Comedy Festival in Australia, and tours clubs and theaters regularly. In 2018 Dave released his comedy special "Good Friend Bad Grammar" which is available on iTunes and Amazon Prime, and won the 2019 Juno Award for Comedy Album of the year. His most recent comedy special, "Beautifully Manic," can be seen on Netflix as part of "Comedians of the World," right now.