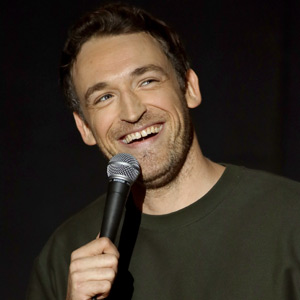 March 12-14 / $20-$25
DC Improv debut! "Billions" on Showtime, Comedy Central, "The Bonfire" on SiriusXM, Conan
Spotlight
Dan has made a career out of good-natured charm. He's on Comedy Central radio four days a week, shooting the breeze with Big Jay Oakerson on "The Bonfire." He plays "Mafee" on the Showtime hit "Billions" -- one of the only REALLY likable characters on a show about highly unpleasant people. And his roots are in stand-up, where he brings his easygoing style to fans all around the country. Check out his DC Improv headlining debut this spring.
Price: $20 Thursday, $22 Friday, $25 Saturday
Showtimes: Thursday 7:30, Friday 7:30 / 9:45, Saturday 7:00 / 9:30
Featuring: TBA
Official Bio
Official website | Instagram | Facebook | Twitter
Dan Soder is a New York City based comedian and actor who's best known as "Mafee" on the hit series "Billions" on Showtime. His special "The Standups" is now streaming on Netflix. In 2016, his first hour-long stand-up special, "Not Special," premiered on Comedy Central. Other credits include: Comedy Central's Half Hour, Conan, Inside Amy Schumer, and @midnight. Dan also hosts Sirius XM's "The Bonfire" with Big Jay Oakerson, every Monday through Thursday at 6pm ET on Comedy Central Radio.